It wasn't until attending the Relevant conference last year that I really understood the depth of an online community. I met a group of women who not only shared their stories and/or ideas online but they encouraged and supported one another through comments and shared life via social media!
Over the past year, I witnessed community go to the next level as I personally began participating in two online groups; 21 Days of Prayer for Sons by Brook McGlothlin and (In)Courage Bloom.
For 21 days, I prayed scriptures over my boys at 10 times throughout the day. It was such a life changing experience for us. I came to appreciate my boys more and to see how important it was to pray for them using scripture. (Look for Brooke to be leading another challenge at the beginning of the year.)
The second community, (In)Courage Bloom book club, was transformational as I read One Thousand Gifts: A Dare to Live Fully Right Where You Are by Ann Voskamp with hundreds of other women. The community watched videos weekly with Ann, Angie Smith, and Jessica Turner and encouraged one another with comments. It was a neat experience!
BTY…I wish all my friends would read this book. Wow! How it helped me to see all life, all thanks, all's grace… Here is a link for you to do the book club with a group of own your own.
In real life, I meet weekly with my friend Jenny to discuss One Thousand Gifts and pray together. Jenny and I competed the book on April 27 at the Starbuck in Cahaba Heights. We prayed earnestly for one another. The next day the table and chairs where we sat were no longer there. One of the first tornadoes in Alabama on the morning on April 28 ripped off the front of the coffee shop and took all the patio furniture with it.
Jenny and I know that God used the book to prepare us for what he had ahead for us. Jenny's construction company, in addition to the ministry that her and her husband led, was one of the first groups into the tornado hit areas. And, it was through our connection that Kids4AL Boxes of Hope was birth. Long story short, God used the book to weave our hearts together and draw us to him. It prepared us to live more fully where God placed us in the months following the storms.
Yes, online communities change lives!
I connected with Brooke, Jessica, Angie, and Ann at the Relevant conference last year. So this year, I wanted to share with you 5+ communities that are being facilitated by other women I know through Relevant that are fabulously using their blogs to build God's Kingdom.
Community- Memorizing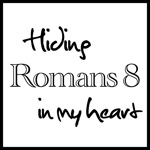 The community at Do Not Depart will be memorizing Romans 8 over the next 19 weeks. Katie Orr was telling me about this at Relevant. I'm praying about doing this. It would take a community motivating me to memorize a whole passage!

Dates: November 6-March 31
Community- Giving
I first learn about this last year from a Myra at My Blessed Life. Each day in November this group of bloggers will be giving to others. Check it out here.
Dates: November 1-30
Community- Discussing
There are lots of book clubs online. I'm currently (supposed to be) doing the Bloom (In)Courage book club What Women Fear by Angie Smith with my best friend, but I'm really behind and I started Kisses from Katie which I cannot put down. They are almost finished with Angie's book, so it is a little too late to join unless you are a fast reader. I'm not sure if they will take a break until the end of the year or do a book during December. Click the box above and it will take you to the most recent book club post or go here to see the past bloom selections.
This week Life By Ashley Pichea just started a book club reading A Confident Heart by Renee Swope. I met Renee the first night at Relevant. We shared stories and connected immediately. Then she told me about her Proverbs 31 Ministry with Lysa TerKeurst. (Wow, I guess I don't get out of Baptist circles much or listen to Christian talk radio.) Anyway, Renee is precious in real life and I'm so excited about her new book. I'm going to start it after Kisses from Katie and What Women Fear and before Grace for the Good Girl (anther must read by a Relevant blogger).
Community- Accountability
I love the Good Morning Girls accountability group online. I have yet to join, because I have been in groups in real life at my church. However, if you are looking for a group to connect with online that will hold you accountable to studying your Bible this is a great group. I think it might be too late for join a session at the moment, but you can still follow along with the current study on 1 John. Courtney (pictured above) and Angela are both inspirational girls!
Another accountability group is Hello Mornings created to "help moms stop waking up TO our children and start waking up FOR our children." The current session is closed, but I wanted to make sure my mommy readers knew about this community. Look for a new one to start at the end of December or beginning of the year.
Community- Reading
My friend Amy at Mom's Toolbox tells her story here of how Blogging Through the Bible in 90 Days got started. Each semester 100's of women journey 90 days with her to read through the whole Bible. It is amazing to watch (yes, I just watch for now). Sign up here for news on the next session.
These are just a few of the active online communities for women that I would recommend to you. Please, share other communities that were not mentioned and include links. Or, I would love to hear about your experience in an online community.